35th Anniversary Logo
From Star Frontiers Network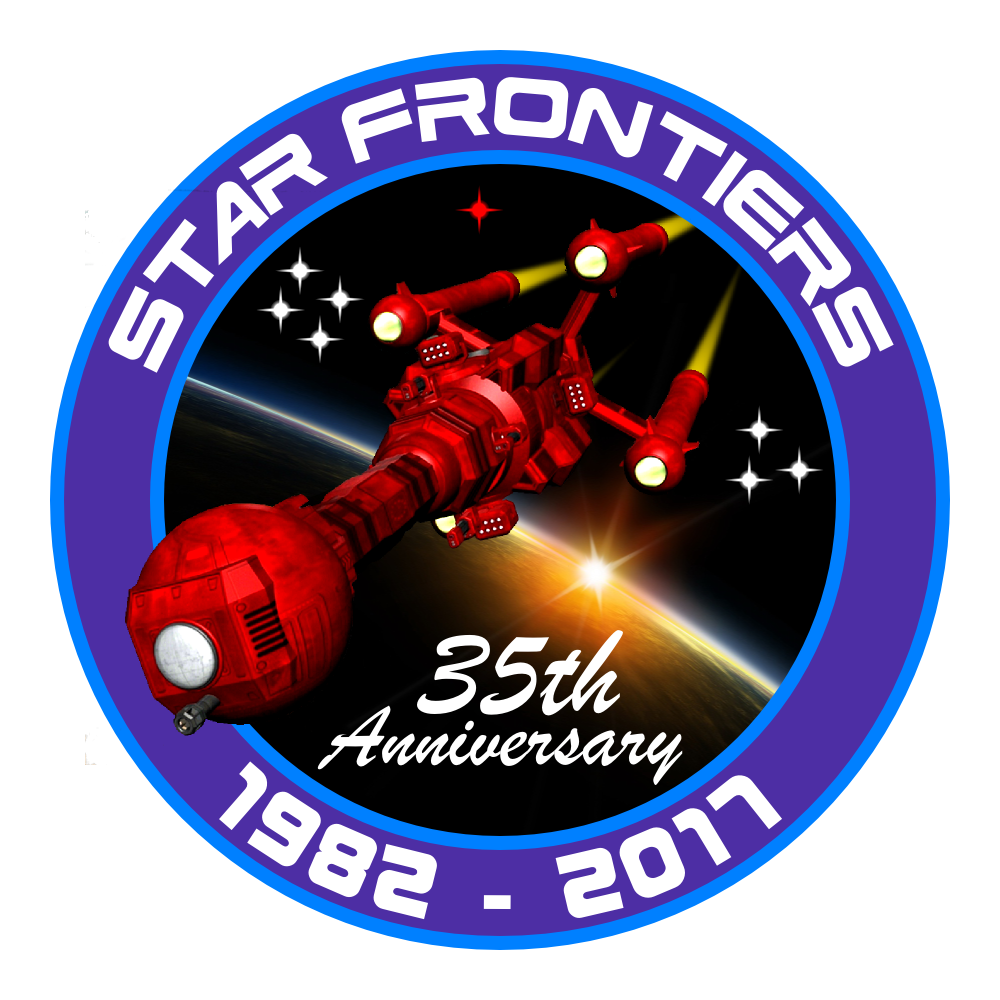 Need description to go here.
Feel free to use it in projects and events related to the 30th Anniversary of Star Frontiers. Just please attribute the logo's creator.
Description
All aspects of the emblem relate to the Star Frontiers game:
Outer Band - The colors of the outer band are the purple and blue highlighting used on the original Star Frontiers Boxed set and Basic and Expanded Rule books. The font used for the Star Frontiers name is the same font used as in the original Star Frontiers Logo. The dates are done in numbers that have been stylized to match the text font.
Sunrise Over Planet - The sunrise represents dawn and is a tribute to the Alpha Dawn desgination give to the original character rules in their second printing. It represents the opportunities of a new day as well as new worlds to explore.
Sathar Destroyer - Probably the iconic enemy ship from the Knight Hawks rules the Sathar Destoryer is definitely the most common of the enemy vessels and represents the constant threat of invasion and attack by this unknown enemy.
Star Clusters - The three sets of stars represent the various groups of races in the Star Frontiers 'canon'. The cluster of four star represent the "core four" races: Humans, Yazirians, Dralasites, and Vrusk. The cluster of three stars represent the native races of The Rim: Ifshnit, Humma, and Osakar. The single red star represents the Sathar, the enemy race of the Frontier and Rim.
35th Anniversary Text - This text commemorates the 35th anniversary of the publication of the original Star Frontiers ruleset.
Copyright and Attribution
Creator: Tom Stephens
Copyright: 2016 - Tom Stephens - Released under a Creative Commons Attribution-NoDerivs 4.0 License.

. The exception to the no derivative limitation of the license is that the image may be scaled as needed for use in the desired setting.
Files
Add links here