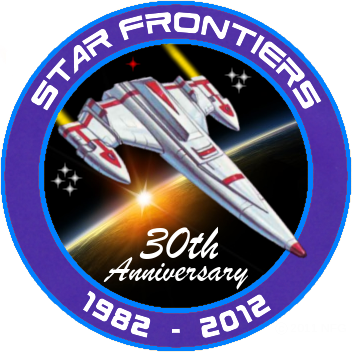 Welcome to the Star Frontiers Virtual Con 2012. In celebration of the 30th anniversary of the publication of the original Star Frontiers boxed set, the fan community has decided to host a virtual Star Frontiers convention. Since it will be a virtual con everything will be held entirely on-line. We will have sessions going around the clock and participants can join in to which ever sessions best fit their schedule over the days of the convention.
The main focus of the con will be playing Star Frontiers. We want to get as many of our fellow Frontiersman together as we can for some great gaming sessions. There will be sixteen possible gaming sessions throughout the weekend of the con and each session can host any number of on-line games. The only limit is the number of referees and players that we can get on-board. We are also planning a couple of special sessions during the day on Saturday to host some panel discussions. Topics and panel members are still being determined. For the full schedule, just jump on over to the Schedule page.
We had planned to have a small $5 registration fee to cover the cost of producing and mailing out a patched based on the 30th Anniversary logo featured here on the Con site. However, we've run into a bit of a snag in getting the patch produced and so have dropped the $5 registration fee. We still hope to be able to produce the patch but it will not be available until after the con. If we can get the patch made, all con participants will be notified and will have to option of getting the patch simply for the cost of production and mailing it out (the original $5 registration fee). For those of you who had already registered and paid the $5 fee, we can either refund your $5 or if you want to wait until the patch production issues are resolved, we'll mail your patch to you as soon as we get them.
Ready to sign up? Jump over to the Registration page to get the full details on how to sign up for the con. We look forward to seeing you in March.
Want to help spread the word? Tell your friends and fellow gamers. Write a blog post, announce it on Twitter. If you want to post a flyer about the con, either on-line or at your local gaming store, we have a couple you can use. The first has a basic white background. If you prefer one with the Alpha Dawn cover image as a background, grab the alternate flyer with the background image. The more people who participate, the better the con will be. So spread the word. Note: These flyers still have the $5 fee listed. If you use them be sure to mention that the fee has been waived.