Encounter Tiles
From Star Frontiers Network
Editor's Note: We need more maps, creatures and adventures for the webzine. Use past issues of the Star Frontiersman to get inspired. Like an adventure seed in the fanzine? Draw a map or describe an encounter and send it off to Submissions@StarFrontiersman.com
Mountain Pass
by Tom Verreault (jedion357)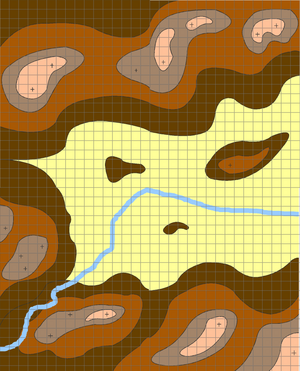 Something I've been thinking about for a while is the generic encounter locations on the back of the Port Loren map from the box set. The encounter tiles on the back of that map are titled; Crater, Mountains, Desert, Fort, Ruins, Forest, and Town. I believe that having expanded print and electronic versions of these available to the Star Frontiers community would be a benefit to referees.
To that end I created an approximate copy of the mountain encounter and generated three more matching tiles. Once released in the Star Frontiersman, these maps will be available as PGN files by download at http://starfrontiers.us/node/3498. The location is the Architecture Project which is ostensibly about maps of adventure locations.
The Mountain Pass encounter tiles were designed to be a match with original tile with its light blue road that looks like it could double as a stream or river. They are also designed to support use with the original die cut counters from the Alpha Dawn box set. The electronic files that will be available by down load serve a dual purpose. They'll be useable on line for gaming on a virtual table top like Open RPG and for use with miniatures by having them enlarged and printed.
The Mountain Pass is actually designed to be a narrow mountain valley with a road or stream running through the middle. The surrounding mountain peaks suggest a classic ambush scenario but the possibilities are unlimited.
Individual Sections of the Mountain Pass Map
Central Encounter
by Larry Moore
One day I got inspired to pull out my soft cover Star Frontiersman fanzine off the shelf and start reading from Issue 1. What I found was amazing – I got really excited to started crafting an encounter/adventure using just the SFMan material. I hope to publish it in Issue 15. Here's a link to the work-in-progress. http://starfrontiers.us/node/4066
After creating the adventure I decided to start making small encounter maps. The idea was inspired by Bill Logan's map work, Tom Verreault's deck plans/tiles and Star Wars Miniatures Tile Wars.
Consider detailing the map areas 1-9 and send it in for publication. We'd love to hear from you. Here are some ideas for inspiration;
Hallway to central city docks.
Public access elevator will take anyone with a blue card pass to levels 1-3.
Hallway to parking garage.
Public computer access terminals.
Hallway to restricted employee offices.
Private terminal access for employee's.
Security office.
Secure storage.
Architect installed a secret door with a mechanical interlock.
Download these maps and more at http://starfrontiersman.com/downloads/misc
I use the following simple counters to represent robots, characters and NPC's.
How to assemble
Print out this page.
Cut along the solid lines (they are small but it's not hard).
Fold along the dotted lines, one side at a time.
Glue the letter or number flap to the other flap (make sure you can see the letter/number).
Glue the letter/number to the circle base.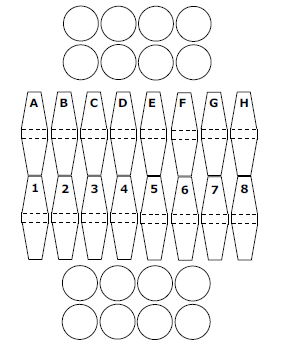 Printed, assembled and placed by w00t!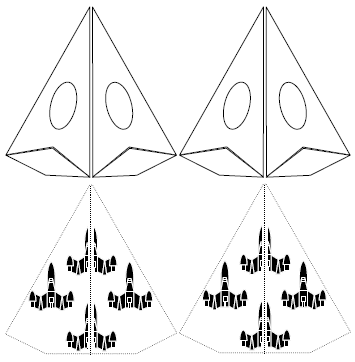 Cut around these counters border, and then fold in half for a quick and easy wing of modified assault scouts (or capital ships above)
This explorer is designed to work with Central Encounters.
Random counters designed to work with Central Encounters.