Star Frontiersman Issue 11
From Star Frontiers Network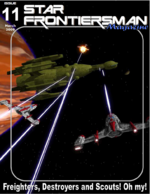 March 2009
This is issue 11 of the Star Frontiersman magazine. You can download the PDF version of the full magazine from the Star Frontiersman website.
This issue was the Star Frontiersman's first themed issue. As you can probably guess by the cover, the focus of the articles in this issue was starships for the Knight Hawks rules.
On the Cover
Original art by GJD, a member of the starfrontiers.us site. It is a modern recreation of the classic Knight Hawks cover replacing the large UPF style vessel with a Sathar Heavy Cruiser. GJD has numerous 3D models of the classic SF ships and his art can be seen throughout the issue.
Table of Contents
---
Staff Credits
Editing: Larry Moore, William Signs, Tom Stephens
Layout: Tom Stephens
Cover Art: GJD
Interior Art: GJD, Art Eaton, Chris Harper, Ben Norman, Tom Stephens, Tom Verreault