Star Frontiersman Issue 12
From Star Frontiers Network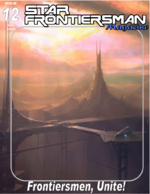 July 2009
This is issue 12 of the Star Frontiersman magazine. You can download the PDF version of the full magazine from the Star Frontiersman website.
On the Cover
The name of this image is "Tarriance," by artist Gary Tonge. Used with permission. Check out his other great works at his website and let him know what you think about his skills: http://www.visionafar.com/
Table of Contents
---
Artwork Credits
Special thanks to Gary, Shell and Dirk for the lastminute art contributions. Art makes the issue come alive.