Star Frontiersman Issue 9
From Star Frontiers Network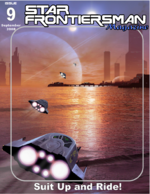 September 2008
This is issue 9 of the Star Frontiersman magazine. You can download the PDF version of the full magazine from the Star Frontiersman website.
This is the first of the community developed and published issues. Prior to this issue, Bill Logan was the sole proprietor of the Star Frontiersman Magazine. Starting with issue 9, time constraints inspired him to pass the reigns on to the community at large and several members stepped up to the plate to keep the magazine moving forward.
On the Cover
Mark Garlick is an exceptional artist, and graciously gave us permission to use his artwork for the covers. You can be sure to find more of his imaginative pieces on future covers. Check out a sample of his works at http://www.markgarlick.com.
Table of Contents
---
Staff Credits
Editing: Greg Rapp, Tom Stephens, Larry Moore
Layout: Tom Stephens
Cover Art: Mark Garlick
Interior Art: Shadow Shack, Chris Harper, Scott Mulder, William Signs