Technical Journal: Gyrojet Weaponry
From Star Frontiers Network
by Andrew Modro
A ripple of gas venting, a wooshing rush, an unerring streak that ends in a deadly wound -- the gyrojet is a truly unique weapon born from a singular idea. The gyrojet concept was created in the real world in the 1960s and, because of manufacturing difficulties and costs, was sidelined, relegated to rich collectors. But the concept lives on, and in STAR FRONTIERS, gyrojet weaponry packs a powerful punch.
This article examines gyrojet pistols and rifles, exposing their benefits and drawbacks as well as investigating their psychological and social impact in the Frontier.
A Brief History of the Gyrojet
In the early 1960s, Robert Mainhardt and Art Biehl, the originators of the gyrojet concept, founded a company named MBAssociates to produce a unique weapon system. Rather than firing lead projectiles, their new design made use of miniaturized rockets. The weapon itself would be easier to manufacture, as it would not have to withstand the combustion pressures of regular firearms. The accuracy of delivery would be improved over normal firearms because there would be less recoil and the rounds would gyroscopically stabilize their own flight, like a bullet shot from a rifled barrel but to a much higher degree.
The concept was sound, but execution was lacking. Manufacturing difficulties caused flaws in the ammunition, and most of the produced rounds were less than perfect, causing them to go astray. The gyrojet's much-vaunted accuracy never materialized, and the project was shelved. Also, the rounds did not immediately come "up to speed", requiring distance to accelerate, meaning that the weapon could not be used at close ranges where its accuracy would improve.
In STAR FRONTIERS, however, advanced manufacturing techniques ensure the rocket rounds fired by gyrojet weapons are produced up to specs. While the acceleration difficulty remains except in expensive, specialized ammunition, the accuracy and power of gyrojets is legendary throughout known space.
Anatomy of a Killer

A gyrojet weapon is, in essence, a hand-held rocket launcher. The weapon itself loads a round into a firing chamber. The rocket round's propellant is touched off when the trigger is pulled (on some models, the trigger is replaced with a simple firing stud, risking twitchy release for speed). Four nozzles on the rear end of the round release and direct the propellant, just like a chemical rocket. However, a gyrojet round's nozzles are "aimed" in such a way as to set the round spinning along its long axis, causing gyroscopic stability, which greatly enhances accuracy over bullets, even from rifled barrels.
Average gyrojet rounds tend to measure approximately 13 mm by 50 mm. As with bullets, there are many different makes, but the chances are that any randomly selected gyrojet weapon will have rounds about that size. The round itself is complete, using its full mass, unlike cased bullets. The nose of the round usually resembles a broad pointed cone, though some rounds are produced with varying shapes. Gyrojet pistols and rifles often use similar ammunition; some rifles have been produced to use larger calibers and more specialized rockets. Because of the size of the rockets, gyrojet weapons tend to hold less ammunition in their clips/ magazines than slugthrowers.
Besides accuracy and power, the properties of gyrojets also provide benefits in underwater and microgravity/ freefall combat. The rounds will fire when submerged, and the much lower recoil is easier to compensate in micro-g situations.
A final, almost side-benefit of gyrojet technology is that the weapons are somewhat quieter in operation than slugthrowers, putting the hearing of users at much less risk. This is not to say that gyrojets are stealthy, but it is possible to utilize one without ear projection and still be able to hear after the fight.
The major cited drawback of gyrojet weapons is the fact that a fired round has not yet reached its full velocity when it leaves the weapon, just like a rocket lifting off. The round is still accelerating as it emerges, and continues to accelerate until its propellant is exhausted. Because of this, gyrojets are very difficult to use at point blank ranges; it is not until further out that the round has reached its full velocity, giving it its full damage capacity. STAR FRONTIERS technology has reduced the required acceleration distance, but it cannot eliminate that distance entirely.
Rocket Power

To use a gyrojet weapon is to declare yourself a breed apart. Gyrojets are about deadly power. Carrying one at your side is a warning: you don't take halfmeasures. Proponents of beam and projectile weapons consider gyrojets to be overkill, or even needlessly bloodthirsty. Gyrojet-slingers don't care; they know what their weapons can do.
The community of gyrojet users is recognized by suppliers throughout the Frontier. Jetclips and rockets are inexpensive, almost as inexpensive as bullets. They are available on just about every inhabited world. Soldiers, mercenaries and adventurers all acknowledge the usefulness of gyrojet weapons, and accord respect those who carry and use them.
Beyond the social cachet, carrying a gyrojet weapon means you're also prepared for situations where lasers and bullets are hampered or even useless. Jetclips are much less expensive than powerpacks, making them more cost-effective than lasers for use in space, and gyrojet rockets function underwater where bullets cannot. Lasers set to high SEU consumption rates can do more damage in a single hit, but shot for shot gyrojets deliver just-as-reliable damage for much less cost, in a broader range of environments.
A Deadly Enthusiasm
Gyrojet technology has produced a few special items for use by true enthusiasts. Though not commonly available, these modifications, devices and specialized ammunitions can be found... for the right price, of course.
Weapon Modifications
Recoil Compensator: This is a modification to the barrel of a gyrojet weapon. Improved venting balance allows the weapon to fire with no noticeable recoil. While the difference is minimal in a normal planetary environment, in space it becomes enough to add 10% to the wielder's chance to hit on any shot.
Target Link: This expensive but deadly modification consists of a small eye sensor mounted on top of the weapon's barrel, wired to a tiny targeting computer which in turn uses a wireless broadcast to provide targeting information to its specialized rounds. When used with proper Linked ammo, the Target Link provides the wielder of the gyrojet weapon a +10% bonus to hit on each shot.
Targeting Scope: This advanced targeting scope allows the operator of the weapon to use a range category one step better when determining the range modifier from the main rule book. A targeting scope doesn't help at point-blank or short ranges. It costs 50Cr to add a targeting scope to a rifle or pistol. Any pistol or rifle equipped with a targeting scope is 0.5kg heavier than it was without.
Ammunition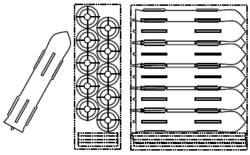 Doze Jetclip. The doze jetclip is loaded with rockets, each carrying a small amount of doze gas. The rockets burst on impact, causing no damage, but filling a onemeter area with doze gas. The target must pass a current Stamina check or fall unconscious for d100 turns. The doze gas is only effective on the round it is fired. These rounds are often used by police or security forces to take suspects alive.
Extended Jetclip: This is nothing more than a largersized jetclip holding 15 rounds of ammunition for a gyrojet weapon (both rifle and pistol extended jetclips are availble). The extension adds 50 Cr to the cost of a normal jetclip, plus the cost of the ammunition inside. For example, a standard Rifle Jetclip normally costs 20Cr. Adding 50% more bullets makes this cost 30Cr. Adding the cost of the extended jetclip brings the total to 80Cr. The costs are all summarized in the table at the end of this article. All gyrojet ammunition in this section can be purchased in Extended Jetclips. The added bulk causes a -1 to the Initiative Modifier of the firer.
Fast Jetclip: By sacrificing round mass for propellant and utilizing larger nozzles, fast gyrojet rounds can get up to speed more quickly than normal rocket rounds, at the cost of damage; in game terms, it gives the weapon a Point Blank range and sacrifices some power. The range of a gyrojet pistol using fast rounds is changed to 2/5/50/100/150; that of a rifle becomes 2/5/75/150/300. Fast rounds reduce damage by 1 die: pistols cause 1d10 and rifles 2d10.
Fragmentation Jetclip: These specially-designed rockets explode on impact like normal ammunition, but have a head packed with dozens of tiny metal slivers, increasing their overall tissue damaging potential. Fragmentation ammunition adds 1d10 to damage.
Linked Jetclip: Advances in miniaturization have allowed the creation of these tiny semi-guided missiles. When combined with a Target Link, linked ammunition adds 10% to the user's chance to hit with a gyrojet weapon. The rounds, like the link, are prohibitively expensive and not currently available except in very certain circumstances. Because of the added size of the circuitry required for these very expensive rockets, no other gyrojet ammunition type may have "Linked" circuitry installed and still fire from a gyrojet weapon.
Poison Jetclip. The poison jetclip's rockets each carry a small dose of poison gas that will affect a one-meter area. When the target is hit, no damage is done, but a current Stamina check must be made. Those that fail will be affected by a S5/T10 poison. If the character passes the check or is wearing a gas mask or spacesuit, he will not be affected. A shot of antitox will neutralize the poison so no further damage is taken.
Tangler Jetclip. This jetclip has rockets filled with tangler fluid. No damage is caused when a target is hit, but a one-meter area is filled with tangler threads. The target may avoid being caught in the threads if a Reaction Speed avoidance roll is made. Otherwise, the threads will last for 30 minutes. Creatures with more than 100 Stamina points may break free in one turn.
Editor's note: the Doze, Poison, and Tangler jetclips are not created by the author of this article, but reprinted from Dragon Magazine, August 1986. The Targeting Scope was added by me following guidelines from the main rulebook and from previously published issues of this webzine.
Gyrojet Weapon Modification Table
Wgt (kg)
Cost (Cr)
Recoil Compensator


+10 to hit in micro-G/freefall

--
+100Cr
Target Link


+10 to hit with linked ammo

--
+500Cr
Targeting Scope


Use next better range category.
Does not help in PB or S ranges.

+0.5
+50Cr
Gyrojet Weapon Ammunition Table
Wgt (kg)
Cost (Cr)
Pistol Jetclips:

Normal Jetclips (10 rounds)

Standard

as in Alpha Dawn book

--
10Cr
Doze

STA check or sleep d100 turns

--
20Cr
Fast

Range: 2/5/50/100/150

--
50Cr
Fragmentation

Damage: 3d10

--
50Cr
Linked

For Target Link (above)

--
100Cr
Poison

Damage: S5/T10 poison

--
50Cr
Tangler

RS check or tangled 30 min.

--
30Cr
Extended Jetclips (15 rounds, -1 IM)
Standard

as in Alpha Dawn book

--
55Cr
Doze

STA check or sleep d100 turns

--
80Cr
Fast

Range: 2/5/50/100/150

--
125Cr
Fragmentation

Damage: 3d10

--
125Cr
Linked

For Target Link (above)

--
200Cr
Poison

Damage: S5/T10 poison

--
125Cr
Tangler

RS check or tangled 30 min.

--
95Cr

Rifle Jetclips:

Normal Jetclips (10 rounds)

Standard

as in Alpha Dawn book

--
20Cr
Doze

STA check or sleep d100 turns

--
30Cr
Fast

Range: 2/5/50/100/150

--
100Cr
Fragmentation

Damage: 3d10

--
100Cr
Linked

For Target Link (above)

--
200Cr
Poison

Damage: S5/T10 poison

--
100Cr
Tangler

RS check or tangled 30 min.

--
30Cr
Extended Jetclips (15 rounds, -1 IM)
Standard

as in Alpha Dawn book

--
80Cr
Doze

STA check or sleep d100 turns

--
95Cr
Fast

Range: 2/5/50/100/150

--
200Cr
Fragmentation

Damage: 3d10

--
200Cr
Linked

For Target Link (above)

--
300Cr
Poison

Damage: S5/T10 poison

--
200Cr
Tangler

RS check or tangled 30 min.

--
95Cr